The challenge is to prepare a Mezze (pronounced "mez-ay", although many people seem to pronounce it as "mezz") Table including, but not limited to, homemade Pita bread and Hummus. If you're not familiar with mezze, it's more of a style of eating than a specific recipe or recipes. Mezze is a bunch of small dishes served all at once—sort of like the Middle Eastern version of Spanish Tapas. It can be served as appetizers before a meal, or as the meal itself.
The recipe requirements are making pita bread from scratch, and also hummus. If you can't eat wheat you can make the pita with an alternative flour. The trick to mezze is having a bunch of dishes that are easy to pick up and to eat with bread, and that all feature Middle Eastern flavors.
A simple mezze meal could be something like pita bread, hummus, olives, roasted almonds, and some feta cheese. If you want to be more elaborate you can add salads, other dips, cooked beans, roasted meat or fish, a variety of flatbreads, and on and on. The presentation is important as you want your mezze table to be just as appealing to the eye as it is to the stomach.
Blog checking lines: The 2010 February Daring COOKs challenge was hosted by Michele of Veggie Num Nums. Michele chose to challenge everyone to make mezze based on various recipes from Claudia Roden, Jeffrey Alford and Naomi Dugid.
Some basic flavors found in Middle Eastern cooking include things like olives, lemons, chickpeas, fava beans, feta cheese, yogurt, eggplant, mint, cilantro, cloves, cumin, olive oil, beets, garlic, lentils, paprika, and tahini.
There is no special equipment necessary, though a food processor would be helpful. You'll just need the basic bowls, baking sheets, measuring cups, etc.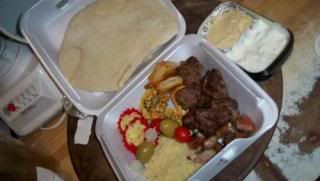 (
Collapse
)
(
Collapse
)
so, it was fun! i'm sorry to post late cause i've been sick. but at any rate, LOVED IT. the people i wanted to impress were impressed. and it all tasted really nice to me.